Saturday Supper Club
Delicious pasta dinner kits for 2+ people. Restaurant quality meals with homemade ingredients, right in your kitchen!
9/30 - Nduja Garlic Rosemary Spaghetti
Regular price
Sale price
$55.00
Unit price
per
Sale
Sold out
Share
View full details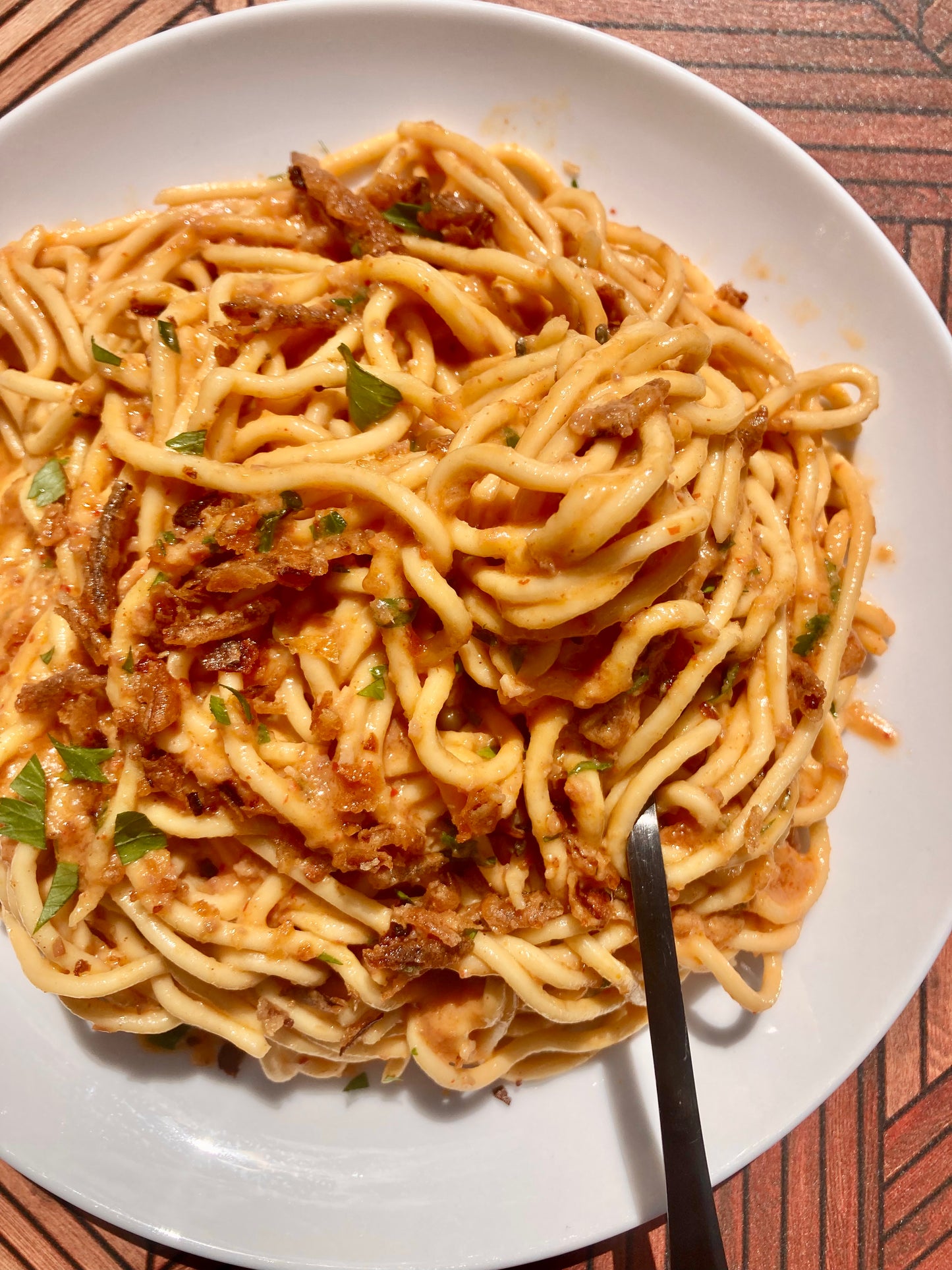 How it Works
What is Supper Club?

Saturday Supper Club is a meal kit service delivering 4 delicious and unique homemade pasta dishes to your kitchen each season.

Each meal kit includes handcrafted fresh pasta, housemade sauce, complimentary toppings, and fresh bread. Detailed instructions are provided, making the cooking and plating process a breeze! Most dishes take 10 minutes or less to prepare and serve 2 generous portions.
How Can I Order?

Order each kit individually at $55 kit or subscribe to our Pasta Queen tier at the beginning of each season to receive all 4 kits in the season at a 25% discount with the option of free shipping.
What are my Pick-up & Delivery Options?

We offer free pick-up at 6 different locations around the Greater Boston area or delivery within a ~6 mile radius of Somerville for a flat fee of $7.50.

Pasta Queen Subscribers are eligible for Free Delivery.

Pick-Up Locations:

Back Bay | Bacco's Wine & Cheese | Saturdays 10am-6pm
Melrose | Beacon Hill Win & Gourmet | Saturdays 9am-9pm
Somerville | Porch Pick-up | Saturdays 11am-6pm
Southie | Love Child | Saturdays 10am-7pm
Stoneham | Food Revolution | Saturdays 11am-12pm
Winchester | Wright-Locke Farm | Saturdays 9am-1pm
Additional Policies & Information

Cancellation: Orders may be cancelled no later than 1 week prior to the supper club date to receive a refund. Orders cancelled within 1 week of the supper club date may be refunded on a case by case basis.

Unable to Receive Delivery: If you order delivery and you are unable to receive your delivery on the specified date, we will not be able to accommodate late deliveries. Instead, you can come pick up your order at our kitchen in Stoneham at 3 Marble Street in Stoneham between 3-7pm the following Tuesday or Wednesday. If you are going to pick up late this needs to be communicated prior to the supper club delivery date. In this case we will refund your delivery fee. If you cannot receive your delivery or come pick-up either of these days we will not be able to refund you.

Change of Delivery Address: Once you place your order, you may email us to ask that your delivery address be changed (within our delivery radius) up to one week prior to the delivery date. Within one week prior to the delivery we will no longer be able to change the delivery address as we create our delivery route and print labels ahead of time. 

Late Pick-Ups: We understand that life happens and something may come up that prevents you from picking up your kit on the date specified. In this case, you will have 2 days to pick up your kit from the pick-up location. After 2 days, your kit will be given away to someone else and you will not be refunded.